A patio can transform the way you use your home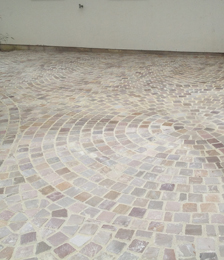 We specialise in the design and fitting of quality patios that are both practical and aesthetically pleasing. A patio designed and installed by us can completely transform the way you use your home.
It doesn't matter what condition your outdoor space is currently in. We fit only quality blocks from the market-leading manufacturers, on properly fitted foundations, so you can be sure of a beautiful patio that will last. We can also install exterior lighting in the process, adding to the aesthetics, function and security.
A patio from us makes the ideal backdrop for a sizzling barbecue as well as an eye-catching addition to a garden. While great in the summer, patios are there year-round channelling rainwater away and offering a tidier, cleaner and more functional outside area.
View driveway gallery | View pathways & patio gallery | View detail gallery