South West Driveways – an eye for detail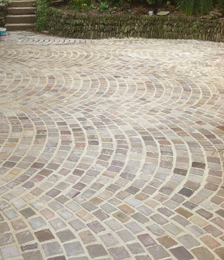 We want you to have the best possible driveway or patio to suit you and your home. We will take the time to discuss the little details that will make your new installation really special.
Manhole covers can be tastefully and discretely covered with your blockwork pattern so that they become part of the driveway rather than an ugly distraction. These camouflaged covers have handles making it easier to access the manhole for inspection.
Edges can be curved or patterned and our fitters are always keen to show their abilities to create inspiring patterns that will add to the impact of the finished installation, should you desire it. We can also run power to your garden to install exterior lighting for security, function and evening aesthetics.
View driveway gallery | View pathways & patio gallery | View detail gallery